Some photos of our customer's aquariums:
Peter's planted tank and a message he sent shortly after getting the fish home.
"Rick great meeting you today unreal selection of discus I was really impressed. My new discus settled right in with my existing discus. I am very please with the size and your great pricing on such nice fish. I look forward to some of those baby cobalt blues you are raising. Here are some photos of your fish one hour after release. Thanks again."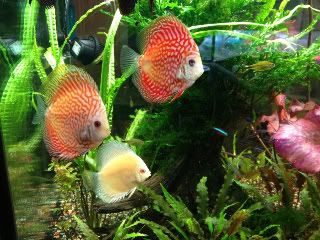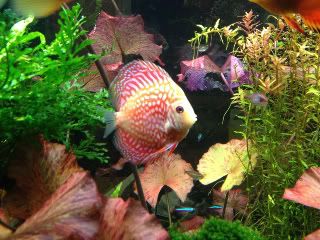 Update 7 years later! Peter's newest additions to the planted tank just hours after being released...
Robin's planted discus tank
Cullen's high end school of discus. I love the 3D background!
Brady's outstanding discus herd including several types of snakeskin strains ranging from albino to high body.
Although I'm best known for my discus when other rare or "show quality" fish become available I won't hesitate to make them available. This is an update on a F2 Santa Isabel Angel that went to my client Marco. It's really maturing nicely with great colours and pattern on top of a beautiful shape. I can't wait to see this one when it is fully grown!
Kanish's super high end Heckels from master breeder Dexter Chung of DXcus.
Update... Kanish's sucessful Heckel spawn!!!
Eugene's group of 21 fry. This series of photos shows what amazing growth and body development can be achieved with hard work. Eugene has been feeding at least 6 times per day with a tank vacuuming after each major feeding. As well two 90% water changes are done daily. A lot of work for sure but boy is it paying off as the discus are growing up to have very round shape with a tiny eye to body ratio.
Shortly after arrival in their new home:
Less than 2 months later:
Now 6 months old and fantastic growth continues!
11 months and all are over 6.5"!
After enjoying such a high level of sucess with his first group Eugene decided to get a second group of fry. A mixture of Leopards and Leopard Snakeskins this time. The first photo is in my tank at around 1" shortly before they were picked up.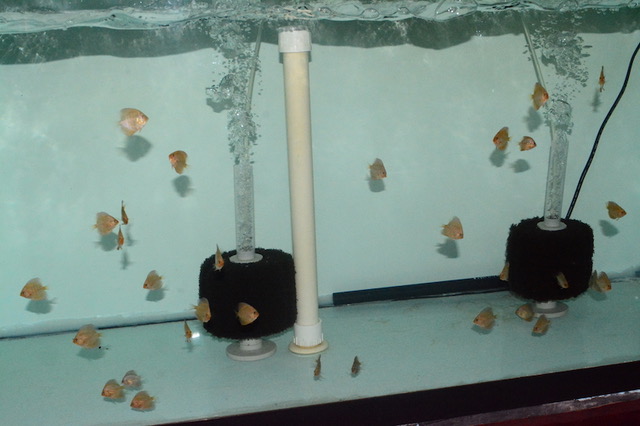 3 1/2 months later...
6 1/2 months...
10 months old...
Around a year old now and the largest are 7.5". Both groups have been moved into a 210 gallon aquarium.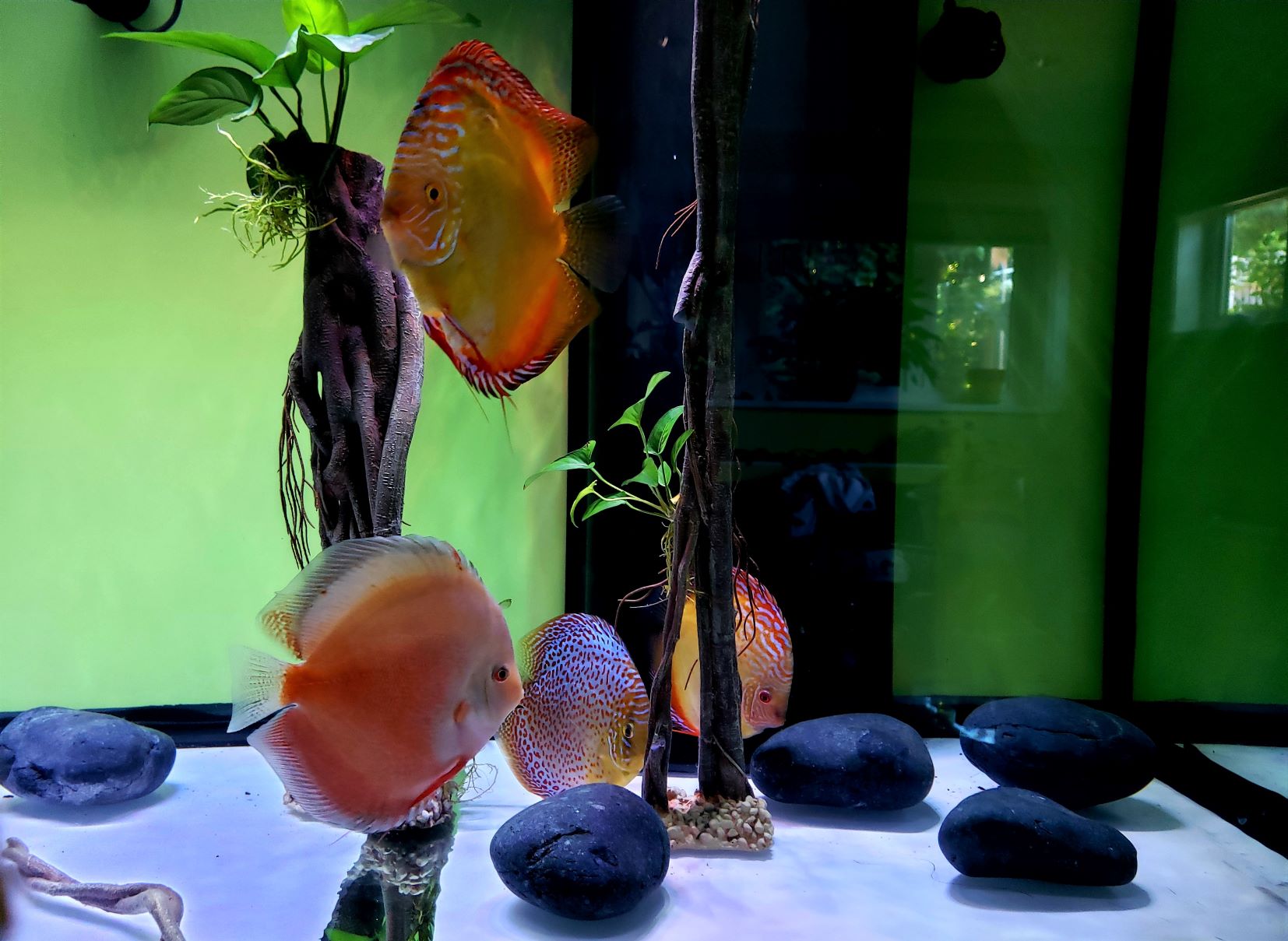 Eugene's massive Alenquer. The eye to body ratio is out of this world.
Eugene's latest addition to the tank is a group of Danziger German Blue and Electric Blue Rams. These breeder size rams look tiny when next to the jumbo sized discus.
Around 2 years old and the spotted discus have caught up to the massive 7"+ size of the first group.
Yvonne's magnificent school of discus.
Jon's Jumbos...
This group of discus were all bred by award winning breeder Dexter Chung of DXcus. They are all huge and of exceptionally high quality.
Jason's discus adventure...
Jason started with a group of fry from my Penang Eruption Pair, here they are 1 month after he got them.
Less than a month after that they started showing a tremendous amount of spotting...
The video below shows the parents of Jason's discus:
Hieu's awesome discus collection.
Kevin's discus which were diligently raised from 1.5" fry.
Simon's magnificient school of discus.
Trent's discus enjoying a meal of Australian Freeze Dried Blackworms.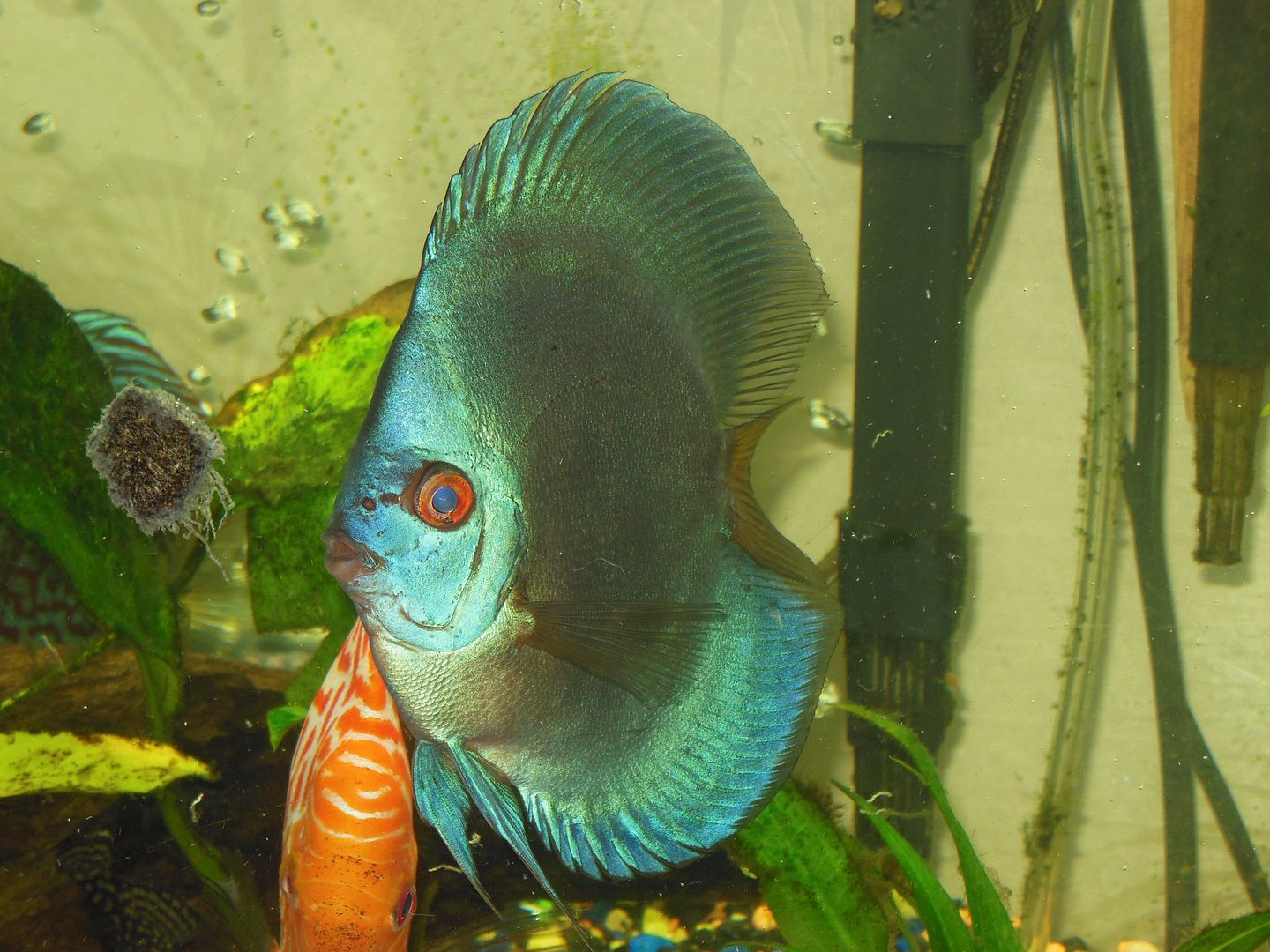 Kristy's new red and yellow discus checking out Java Moss for the first time.
Michael's tank with a mix of CAF home grown and imported discus. He has done a great job incorporating plants into a bare bottom tank.
Ken's group of Red Scribbled Turquoise discus fry that were born here at Canadian Aqua Farm
January 19th:
January 28th:
February 18th (growing like weeds!):
Spring:
Summer... wow!
Daryl's discus display. Just look at the amazing plant growth! His collection of Forrest discus is pretty sweet too!!!
Silke's discus show tank video
Chad's awesome display tank complete with a 3D background.
An HD video of Harsha's planted discus tank. I could watch this all day long!
Cesar's Jumbo Golden Melons. These big discus have stunning shape and vivid colours making them beautiful show pieces in his display tank.
Renz's discus collection, just look at the colours!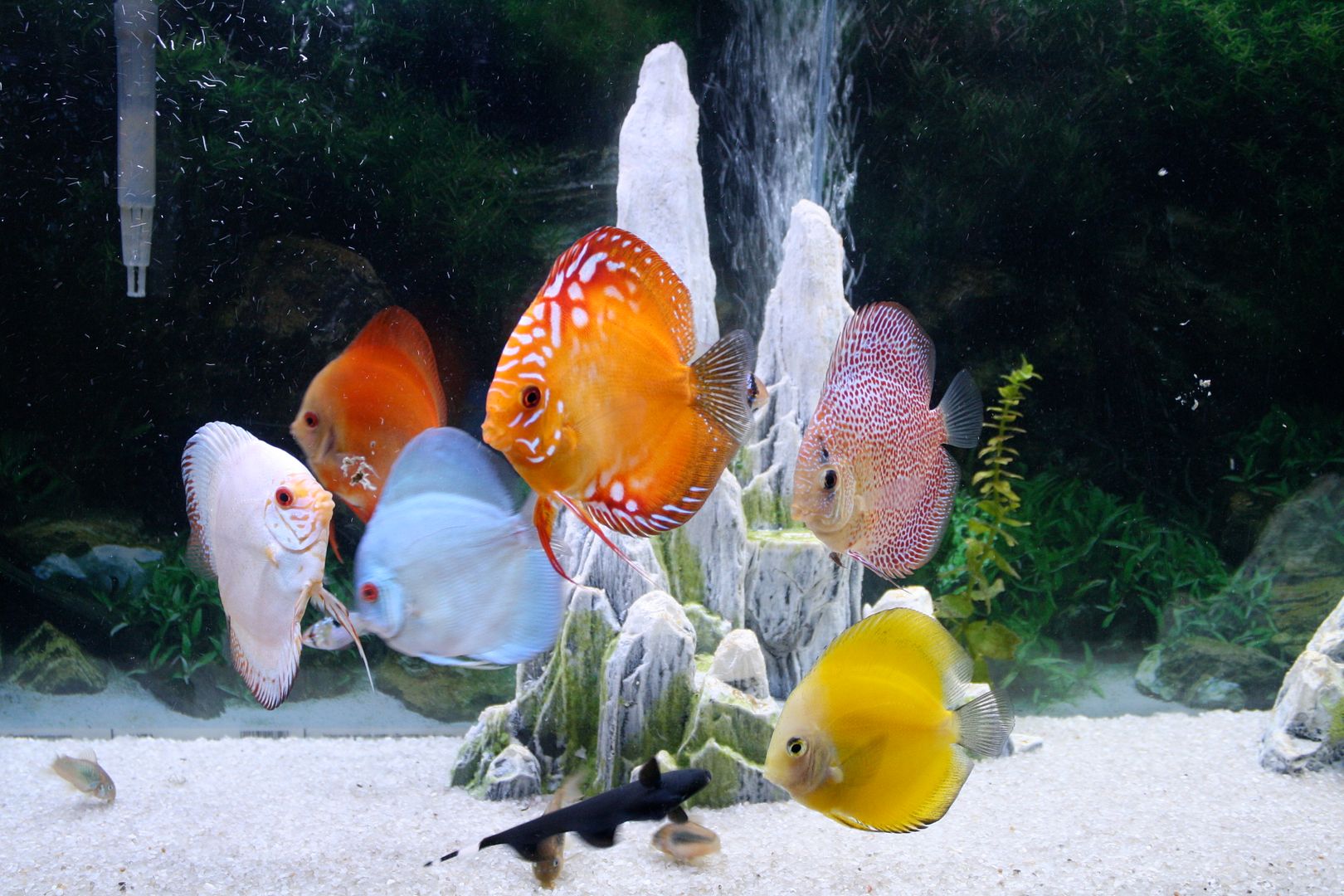 Sean's monster tank video.... this is a must see! Discus, stingrays and koi living in harmony though the koi have since been removed. Sean started with a bunch of our 2" home grown baby discus and then later topped up his collection with a bunch of our high end imports. His discus spawn on a regular basis.
Rod's Red Eagle crosses and Albinos. The Red Eagles were bred here at CAF and the Albinos were imported from Forrest Discus. Rod has done an exception job raising the Red Eagles from a very small size and also packing some serious growth on the albinos in a short period of time.
Joel's planted discus tank
Mervin's Rafflesia Throwbacks and Turqs. These are big discus, much bigger than they appear in the photos!
Jeremy's Leopard x Eruption breeding pair and some of the babies he has raised from the pair. Excellent work!
Colleen's planted discus display tank. The black substrate really brings out the blues in her discus.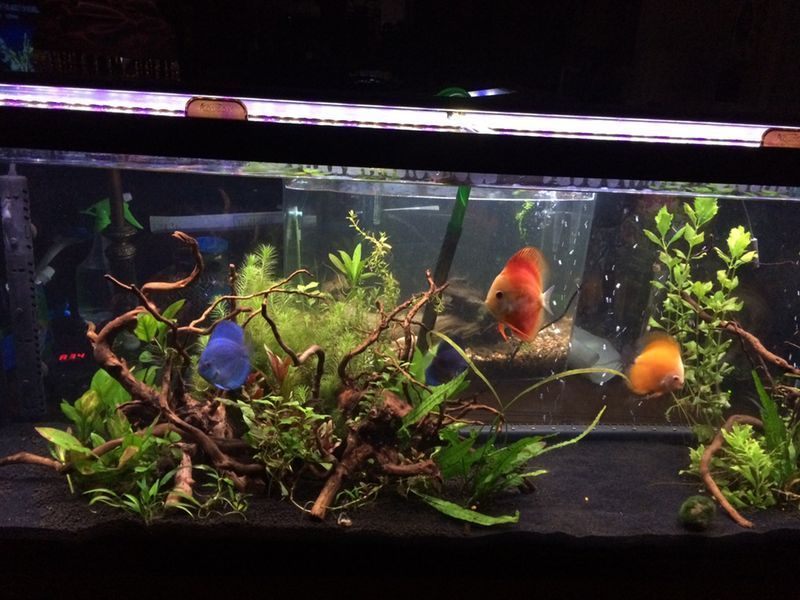 Mark & Cathy's Red Turquoise discus fry just a few days after arrival, already settled in and pigging out on Australian Freeze Dried Black Worms.
Update on Mark & Cathy's discus 3 weeks after arrival with a toonie taped to the glass. There has been noticeable growth:
Update on M&C's Red Turqs. Putting on some good size and patterns are starting to show.
The video below shows older siblings from the same parents as Mark & Cathy's fry shown above. Amazing how much they will change over the coming months:
Matt & Larrisa's tank with a mix of our imported and home grown discus.
Frank's Red Spotted Green possible pair and Albino Turquoise pair.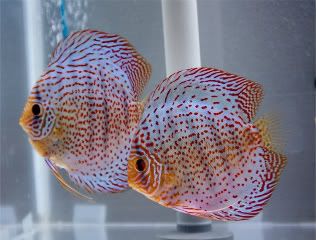 Jerry's tank is so heavily planted that his discus have managed to raise a batch of offspring while other discus were present in the tank. A very rare occurrence!
Louis' discus high end herd feasting on CAF Colour Enhnacing Black Worm Cubes.
William's big school.... first photo is the group of babies he purchased shortly after he took them home. The second photo was around 10 months later as young adults.
Sheldon's Red Turquoise breeding pair and Cobalt breeding pair.
Hall Of Fame
This area is reserved for the Grand Champions of the CAF Annual Discus Grow Out Contest which we host on BCAquaria.com every year. The past grow out contests contain a wealth of information regarding the care of young discus and are well worth browsing through. They can be seen by clicking here.

1st Annual Contest Winner: Scherb
2nd Annual Contest Winner: Crimper
3rd Annual Contest Winner: Hamburgerhelper
4th Annual Contest Winner: Pamdb33
5th Annual Contest Winner: 2wheelsx2
6th Annual Contest Winner: Garageman1212
7th Annual Discus Grow Contest Winner Fishman21