***The best way to keep in touch with what's new at CAF is by liking our facebook page. Announcements, photos and videos are posted regularly***
"Canada's Source For Quality Discus"
Welcome to the Canadian Aqua Farm website. We have discus for sale in Canada with coast to coast shipping available. If you are looking to buy discus in Canada you have come to the right place. We are breeders and importers of fine quality discus and also carry a select line of specialty aquarium supplies and feeds geared towards the serious hobbyist. We only sell products that we believe in and use on our fish.
Contact us: info@canadianaquafarm.com
______________________________________________________________________________________________
WHAT'S NEW:
November 15th, 2013:
Albino Dantum Angelfish (Altum x Scalare) available now. Click here for more details.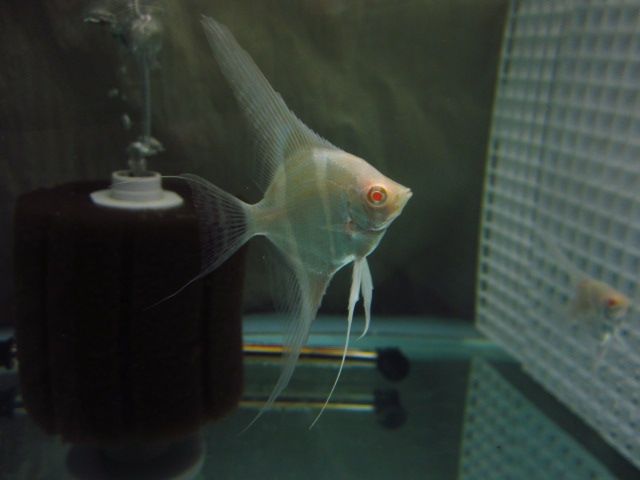 October 31st, 2013

Congratulations to the 10 winners of the Red Spotted Green discus give away! The winners are; Martin, Nigel, Robert, Debbie, Anthony, Carmelita, Darren, Andy, Hieu and Richard. To see a video of the draw please click here.


October 27th, 2013
The November discus shipment is now available for pre-order. For pricing and photos please click here. Everyone who places an order on or before October 31st will be entered in a draw to win one of ten 4"+/- Red Spotted Green (Albino Intermediate). This is a $95 value. Ten lucky customers will each win one of these discus.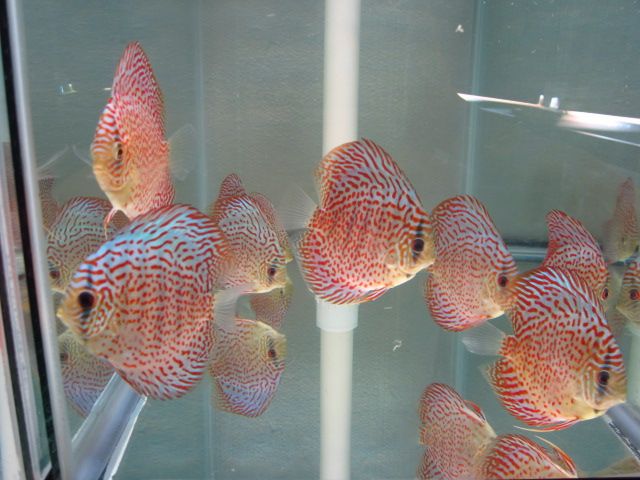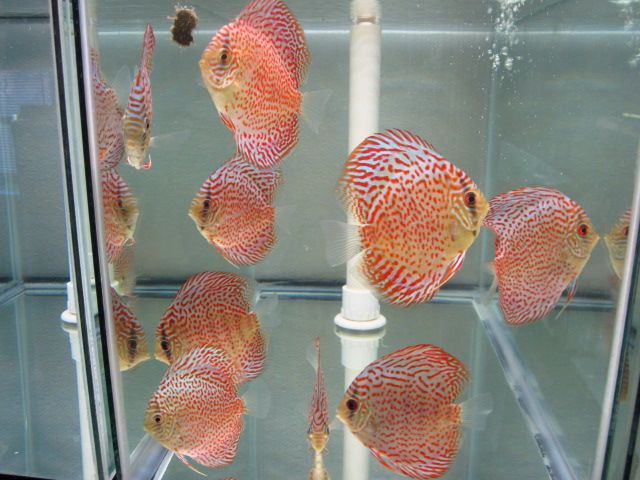 September 29th, 2013

1. For pricing and availability of our current discus stock please click here. Video of this shipment can be seen clicking here.

2. Congratulations to Crimper, winner of the 2nd Annual CAF Discus Grow Out Contest with this Reflection D cross. To see all of the discus entries please click here.





August 27th, 2013
I am pleased to offer one of the most liberal live delivery policies in the aquarium fish industry. For further details as well as some other policy updates please see my full store policies by clicking here.

August 25th, 2013
High end angelfish are now available. Please click here for more details.



August 3rd, 2013:

I am pleased to announce that a new colour enhancing Freeze Dried Black Worm fish food is now available. For additional details and to order please click here.
Some photos of our customer's aquariums:
Peter's planted tank and a message he sent shortly after getting the fish home.
"Rick great meeting you today unreal selection of discus I was really impressed. My new discus settled right in with my existing discus. I am very please with the size and your great pricing on such nice fish. I look forward to some of those baby cobalt blues you are raising. Here are some photos of your fish one hour after release. Thanks again."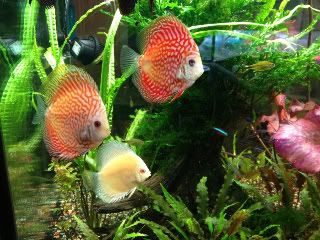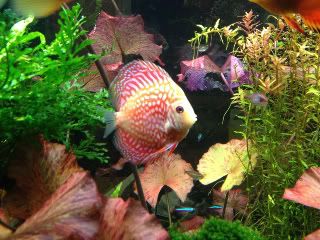 Chad's awesome display tank complete with a 3D background.


Jeremy's Leopard x Eruption breeding pair and some of the babies he has raised from the pair. Excellent work!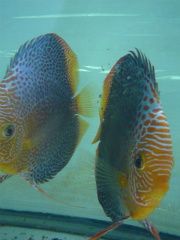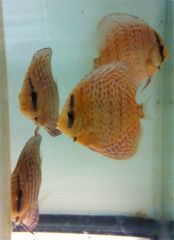 Matt & Larrisa's tank with a mix of our imported and home grown discus.
Frank's Red Spotted Green possible pair and newly aquired Albino Turquoise pair.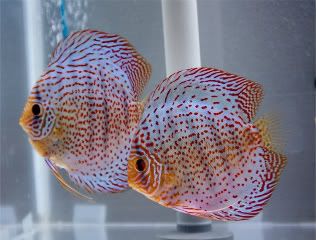 Link to Silke's discus show tank video: Click here for the video!
Richard's collection, notice the pair with eggs on the right side. These discus were grown out from our 2" home grown juveniles.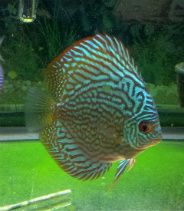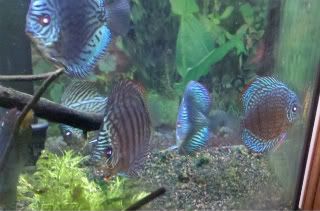 Rod's school of discus, also grown out from our 2" home grown juveniles...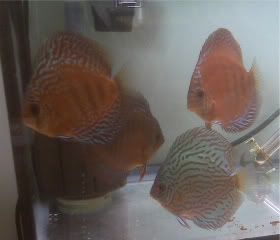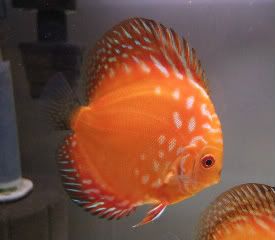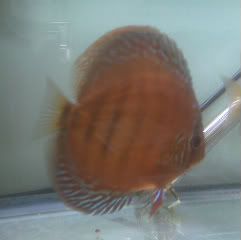 Rod's fish update... the brilliant turquoise are getting huge and a new collection of little guys have been added...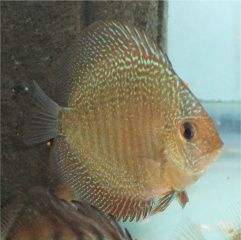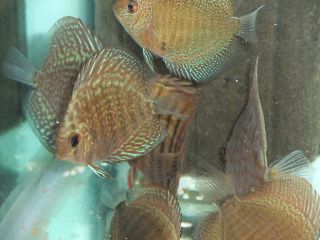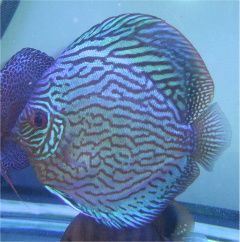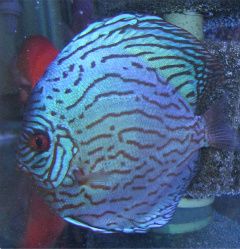 Sean's monster tank video.... this is a must see! Discus, stingrays and koi living in harmony though the koi have since been removed. Sean started with a bunch of our 2" home grown baby discus and then later topped up his collection with a bunch of our high end imports. His discus spawn on a regular basis.
Click Here For Video of Sean's Aquaium
Matt has a mix of our home grown and imported discus. The pair in the top left of the photo and the pair in the bottom right are both guarding clutches of eggs. A third pair also spawned on that same day which coincidentally was Valentine's day!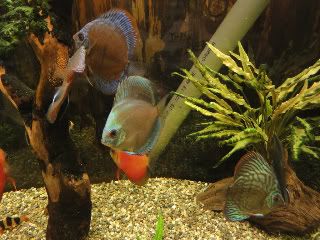 ***Update... Matt has done a great job raising a big group of fry as seen below.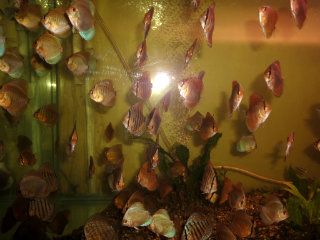 William's big school.... first photo is the group of babies he purchased shortly after he took them home. The second photo was around 10 months later as young adults.
Customer Testimonials:
When I founded Canadian Aqua Farm in 2010 I realized there was a need in the tropical fish market for healthy, disease and parasite free fish in Canada but never in my wildest dreams could I have imagined the positive feedback that I would receive in such short order. The following are just a few of the kind words that customers have sent my way after receiving their orders...
"Hey Rick, I just wanted you to know everyone made it home and seem happy :) They're eating like crazy and aren't showing any signs of stress from the move. Thanks again."
"beautiful fish! you do a great job packing them. the box arrived warm and dry!"
"Hi Rick, Thanks for your discus. Now, I've got a problem. My wife likes them so much that she wants one of each type you have. looks like we'll be placing another order very soon."
"i wanted to thank you for giving me such a great deal on the fish and shipping. It's my one passion, so i really appreciate you going out of your way for me :D"
"your fish are so awesome sir I just love to look at them in my tank. Big fan over here!!!"
"Rick, I thank you for the time you have taken to answer my questions. You are the first discus venture to give out some solid advice. The clan of fish that I bought from you are beautiful and for the first time I have discus that eat from my hand. Words can't express my thanks for the quality advice and fish received."
"I received the discus this afternoon. They are really healthy and active right now. The colouration is really starting to show and they are already looking for food.
"After having your discus for one week I have to tell you that you are the best discus breeder around... my suggestion, breed more and breed rare!"
"Over the years I have bought many bettas from Thailand and imported through a transhipper. I have to say that your bettas arrive much healthier and I love how flexible your shipping schedule is. When I want show quality bettas I am no longer held hostige to the transhiper's schedule and outrageous fees! Thanks again!"
"I received my betta order and the males are already blowing bubble nests. I can't wait to breed them. Thank-you for sending such high quality fish."
"I ordered several live food cultures from Canadian Aqua Farm. Shortly there after Canadapost went on strike. My cultures were essentially being held hostage in the mail and all the while, one by one, my angelfish babies were begining to die of starvation. The owner of the company personally went out of his way to hand deliver replacement cultures to my door. My angelfish babies were saved. This level of personal service from the owner speaks volumes to the integrety of the company! Don't hesitate to order from Canadian Aqua Farm."
For videos of some of our fish please vist our Youtube account... Canadian Aqua Farm's Videos
Keep up with what's new by following us on Facebook...
Questions, comments, orders? We are always here to help! Contact us at info@canadianaquafarm.com
Chad's awesome display tank complete with a 3D background.
September 29th, 2013